Denver Classroom Teachers Association
Denver's teachers proudly endorse
Scott as the pro-public education candidate for District 1.
Colorado
Education
Association
Denver Federation for Paraprofessional & Nutrition Service Employees
DFP-NSE is proud to endorse to Scott Baldermann as a candidate for DPS board. We need to as a district elect Scott Baldermann. Scott will will listen and work with all classified employees in DPS. Scott will work with the classified employees on recruiting and retaining hard working employees for our students in DPS.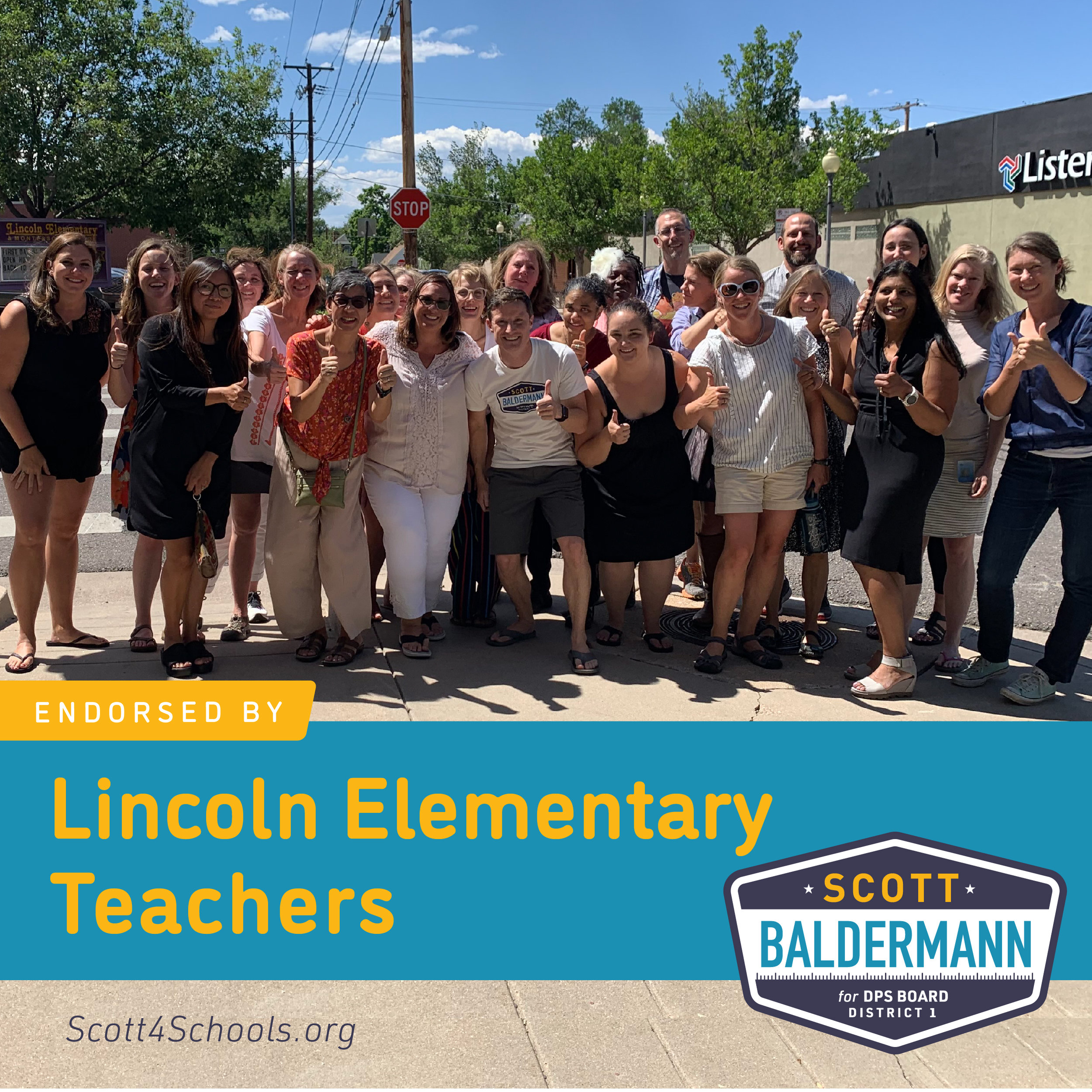 Lincoln Elementary Teachers
If you want to know why I am running, start by asking these incredibly dedicated, over-worked, under-paid teachers at Lincoln Elementary. I am so humbled by their support.
Progressive Democrats of America - Denver Chapter
The Denver chapter of Progressive Democrats of America, PDA, is pleased to announce our endorsement for Scott Baldermann, Denver School Board candidate, District 1. Scott is the right person to bring everyone together; school board, community, teachers, paraprofessionals and students. He understands the importance of school safety, of promoting a healthy school climate, and providing classrooms with needed resources so all students can be successful. Scott has a clear vision for getting needed funds into every school, thereby ensuring that all students have equal opportunity to receive a high quality DPS education, in another words, Kids First! This endorsement for Scott Baldermann's candidacy is made under Progressive Vote -- Colorado, the registered political committee for the Denver Chapter of PDA.
The Denver Public Schools philosophy of education reform has destroyed Cole Junior High and Manual High School, which houses three different schools. the current DPS Board of Education's philosophy of education reform is not addressing these concerns and other issues. Therefore, I am endorsing a slate of three new candidates for the board supported by the Denver Classroom Teachers Association. They are: Tay Anderson for At-Large, Scott Baldermann for District 1, and Brad Laurvick for District 5. The recent Denver City Council election showed that voters expect accountability form their elected officials. The same should be true for the DPS Board of Education election this November.
I have seen first hand the importance of strong unions and the positive impacts they have on workers, families, and communities.
That is why I am proud to support Scott Baldermann for Denver School Board. As the teachers union backed candidate, Scott will fight to ensure teachers have the resources they need to provide the quality education our students deserve.
As a teacher, I have seen the impact that strong advocates on a school board can have on our children. It's why I'm proud to endorse Scott Baldermann for Denver School Board. He is a tireless fighter who will always put our children above all else.
Scott Baldermann is the right choice for District 1. Scott is a problem solver who has worked tirelessly for all students and all educators and will continue to do if elected. Scott believes the DPS budgetary process needs to be more transparent so taxpayers can be confident their money is being spent wisely. He will work to examine and reprioritize the budget so more money actually reaches the classrooms. He believes in empowering neighborhood schools by providing them with the proper financial and human resources, including wrap-around services and social and emotional supports for Denver's kids. He believes in reducing the time spent on excessive high stakes testing so professional educators can teach and students can learn again.
Scott Baldermann. The best candidate for Denver's District 1.
Scott will lead the anti-privatization effort for the benefit of all of Denver's kids. He will demand true transparency for district expenses, protect our neighborhood public schools, and advocate for whole-child education.
I truly believe that we need unity, and that we need to elect someone in District 1 who will put the needs of our students, teachers and families first. We need someone who will have the time, passion and dedication to be a full time school board member. We need someone who has experience working with teachers, administrators, students, PTA parents, and community members to improve the school experience for everyone.
I believe that 'someone' should be Scott Baldermann. I think the DCTA Fund made a great choice, and I am proud to officially endorse his campaign.
Over the past few months, I have gotten to know Scott as a fellow candidate, but also on a more personal level as a parent and 'almost' neighbor in Southeast Denver. I never felt like we were true 'opponents' but rather 'co-candidates'. We ended up in a lot of the same places during campaign activities: We toured for 8 hours on the OVOS Equity Bus Tour together. We have met for coffee to discuss the election. We even sat together at Board meetings!
What I have learned during all of these encounters, is that Scott cares deeply about insuring that students, teachers and school staff receive the support and resources they need to succeed. He is also very knowledgeable about the financial challenges within DPS, and he has the business background to understand their complexity. He is passionate about equity, and working with the community to find solutions to the inequities that currently exist within DPS. I could go on-but this post is already pretty long! What I am trying to say is that I am Team Scott all the way!
I believe Scott Baldermann should be elected to the Denver School Board of Education, District 1 seat for several reasons:
1. He is a dad who cares for his children and others and is willing to take extra time to ensure that they and their teachers need support both financially and emotionally. He proved it by being there as a PTA president and leader of parents at his children's school.
2. He was a parent advocate to work with the teachers and the district in averting a teachers' strike.
3. He labored with and encouraged teachers as he walked the picket lines with them.
4. He attended and encouraged the secretaries and office personnel during the labor negotiations with the district.
5. He is a businessman that understands budgets and finances and works to inform the community regarding the district budget. We need him on the board to represent the interests of the community on financial concerns and ensure that more of the dollars go to direct services to students.
I am supporting Scott Baldermann for BOE because he is focused on giving back to the Denver school community by being the board budget watchdog, seeing that more money goes directly to students than to administrative costs. He understands that equity is possible across DPS if budget priorities are set that force money into classrooms. I also believe that his votes on the board will be in collaboration with his colleagues on what is best for each of their individual districts.
I am honored to support Scott Baldermann as Candidate for Denver Public School Board - District 1. I am currently a parent of a student who attends Denver East High School, and I am the Traditional Kindergarten teacher at Lincoln Elementary School where Scott Baldermann's children attend and where he previously served as the PTSA President. Over the years, I have witnessed Scott's dedication to students, families, and teachers of the Lincoln community. I know that Scott truly believes in putting every DPS student first, and he demonstrates that core value everyday by the impact he has had on our entire Lincoln community.
During his time at Lincoln, Scott has made huge contributions to Lincoln Elementary. As PTSA President, he raised greatly needed funds for our classrooms, which provided the hiring of extra paraprofessionals to work in our classrooms directly with our students. All teachers were able to purchase supplies needed for classrooms above and beyond the regular school budget, supplies teachers often buy out of their own pockets year after year, and many other items were acquired, such as cooling systems for our building, iPads, enrichment curriculums, sunscreen for every classroom, and yoga mats for the gym. He also created an important scholarship grant offering on-going education for all paraprofessionals and teachers. Scott designed and launched the Lincoln Elementary App, which is used for important school communications and events. He is a member of the Collaborative School Committee; he has led and coordinated a number of the most popular family oriented events at the school and has volunteered countless hours in the building as cafeteria and playground supervisor.
Scott has worked closely with our Lincoln teachers and is a strong teacher advocate. Scott began attending public bargaining sessions in October 2017 for ProComp negotiations and was very supportive during the Denver teachers' strike, understanding that teacher compensation in DPS was a problem as well as the major issues with education funding. Scott and his family rallied our Lincoln parents and students to join their teachers on April 27, 2018 at the Colorado State Capitol for the rally to demand funding increases for education. The day was unpaid leave as was the strike, so Scott created GoFundMe Campaigns to further support Denver teachers.
Scott has met and collaborated with several members of the Denver community and learned about issues impacting our Denver students and teachers first-hand. He regularly attends teacher meetings, community meetings, and Board meetings. Scott was recently involved in the redesign community meetings for The Denver Discovery School. Scott assisted the Innovation and Redesign team with financial pieces as they advocated for the students in their community.
Because of Scott's strong business and financial background, leadership and organizational skills, his expertise proves him the leading candidate above all the other District 1 School Board candidates. Scott is dissecting the district's budget and financial documents and is concerned with the tremendous amount of debt Denver Public Schools has. Scott also realizes that too much of our taxpayer money is going to Central Administration, rather than the classroom. As a board member, I know Scott would be committed to change that is so greatly and long overdue in DPS. He would demand a transparent budget assuring taxpayers that resources are going to students first, he would prioritize emotional health of our students, by adding full-time psychologists in every school and reducing security officers, he would support smaller class sizes, and he would listen to all parent voices and teacher voices to make DPS schools a welcoming, positive, and nurturing educational environment for all.
I endorse Scott for District 1 because Scott is there for students, teachers, and the community. As a parent, Scott personally installed 12 window fans at Lincoln Elementary because the classrooms were so hot. His proven support and vision is what Our Board needs.
After attending DCTA's Candidate Forum, I'm supporting Scott Baldermann for the District 1 School Board seat because he is an informed and involved DPS parent. He listens to educators, digs for truth, and will hold DPS fiscally accountable. He understands we need to increase the percentage of taxpayer money that gets into the schools. Every school needs a full-time nurse, psychologist, social worker, counselor, and librarian. Students need smaller class sizes with adequate paras and special education teachers to support their growth. I believe that Scott will do those things.
I'm proud to endorse Scott Baldermann for Denver School Board in District 1. Among many wonderful candidates, Scott has significant experience in public finance, organizational budget, and collaborative management. He has proven he will listen to our local community, build bridges between DPS and stakeholders, and support our teacher and student community. He will also bring an equity perspective to the board that will lift our young people and build positive outcomes.
Pipefitters 208 Local Union
Denver Pipefitters Local 208 is proud to endorse Scott Baldermann for Denver Public School Board. Scott's experience in construction and contract language/finances will bring increased efficiencies and transparency to the DPS budget. Scott's commitment to ensuring licensed professional contractors perform capital construction and repairs in our schools will not only funnel additional monies into the classroom but provide added work opportunities to local residents as well. Scott is the right choice for our schools, our teachers, and our students.
- Gary Arnold, Business Manager, Denver Pipefitters Local 208
I am proud to have the support and endorsement of the dedicated and hardworking members of Pipefitters Local 208!